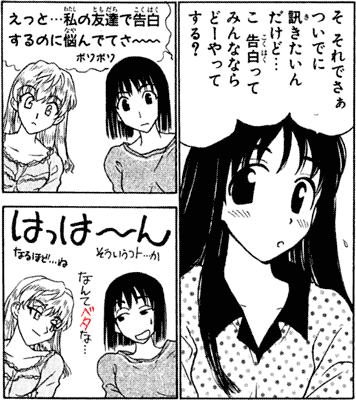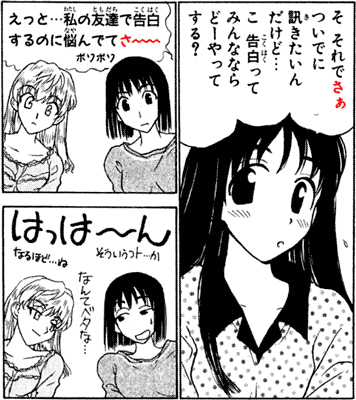 Translation
Context: girls get together.
so, sore de saa
そ それでさぁ
[And, and you see].

sore de
それで
And then. After that.
With that. Given that. (used to continue a conversation.)
saa
さぁ
You see. You know. (interjection.)

tsuide ni kikitai-n-dakedo...
ついでに訊きたいんだけど・・・
[There's something] [I] want to ask, [since we're at it].

tsuide ni
ついでに
Incidentally. Since we're at it.

ko, kokuhaku tte minna nara doo yatte suru?
こ 告白ってみんなならどーやってする?
Confessing [to someone you love], how would [you] do [it] if it were [you]?
etto... watashi no tomodachi de kokuhaku suru noni nayandete saa
えっと・・・私の友達で告白するのに悩んでてさ~~
Erm... my friend is having trouble confessing, [you see]~~
boribori
ぼりぼり
*munch munch*
ho'hoon
ほっほ~~ん
(A Santa laugh-like sound, typically used when examining something intriguing.)
souiu koto... ka
そういうコト・・・か
[That's how it is, huh.]
naruhodo... ne
なるほど・・・ね
[Oh, I see.]
nante beta na...
なんてベタな・・・
What a clichéd... [thing to say.]

Asking for help with a personal problem, but saying it's not you who is having the problem, it's your unnamed "friend," who, naturally, nobody knows, because they go to another school, in Canada, is very cliched.
Relevant Articles
"Like this," "like that," "like what," "how."
File Usage
The file nante-beta-school-rumble-ch16.png has been used in the following articles: