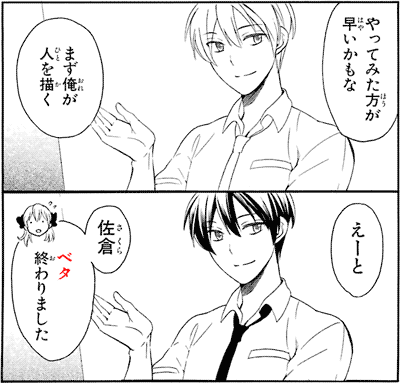 Translation
Context: Nozaki 野崎 is a manga author with two assistants: Sakura 佐倉 and Mikoshiba 御子柴. Sakura's job is filling areas with black ink. Sakura has doubts about what Mikoshiba's job is supposed to be, so Nozaki says:
yatte-mita hou ga hayai kamo na
やってみた方が早いかもな
Doing [it] [once] may be faster. (than explaining it with words.)
mazu ore ga hito wo kaku
まず俺が人を描く
First, I draw a person.
eeto, Sakura, beta, owarimashita
えーと 佐倉 ベタ 終わりました
Erm, Sakura, black ink, finished.
Relevant Articles
File Usage
The file beta-gekkan-shoujo-nozaki-kun-ch03.png has been used in the following articles: