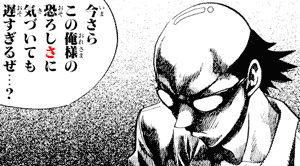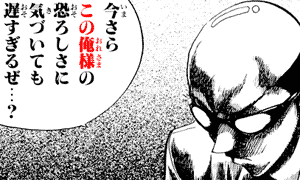 Translation
Context: Harima Kenji 播磨拳児 is about to get violent.
ima sara kono ore-sama no osoroshi-sa ni kidzuite-mo oso-sugiru ze...?
今さら この俺様の 恐ろしさに 気づいても 遅すぎるぜ・・・?
Even if [you finally] noticed how frightening this me is, it's [already] too late.

ima sara
今更
Only now. After all this time. Finally.
osoroshi-sa
恐ろしさ
Frightening-ness. How frightening.

kidzuku
気づく
To notice.
kidzuite-mo
気づいても
Even if [you] notice.
osoi
遅い
Late.
oso-sugiru
遅すぎる
Too late.
Relevant Articles
File Usage
The file osoroshisa-sa-form-school-rumble-ch70.png has been used in the following articles: