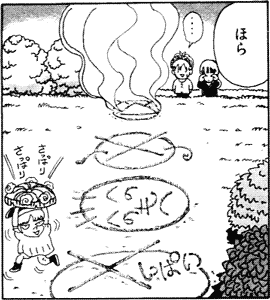 Translation
Context: Kukuri ククリ correctly drew a "magic circle," mahoujin 魔法陣, but only after countless failures. She shows the failed magic circles to Nike ニケ.
hora
ほら
See.
...
sappari sappari
さっぱりさっぱり
(in this series, the sappari fairy is summoned whenever something silly happens.)

sappari
さっぱり
Completely. Specially in the sense of completely clean. (mimetic word.)
(typically used as an abbreviation of)
sappari wakaranai
さっぱりわからない
To completely not know.
To have absolutely no idea.

shippai
しっぱい
Failure.
Relevant Articles
File Usage
The file henohenomoheji-mahoujin-guruguru.png has been used in the following articles: