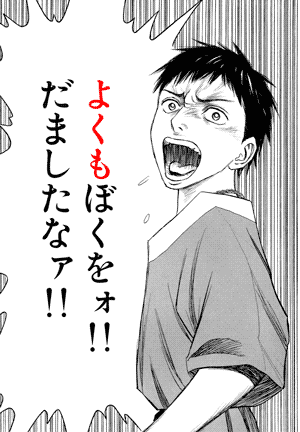 Translation
YOKU MO BOKU WOO!!
DAMASHITA NAA!!
よくもぼくをォ!!
だましたなァ!!
IT IS VERY IMPRESSIVE [THAT YOU] DECEIVED ME, [HUH?]!!!!

HOW COULD YOU DARE DECEIVE ME?!?!?!?!?!
I CAN'T BELIEVE YOU LIED TO ME!!!!!!111234
ォァ
These small kana were written to mean his screams are so strong the pronunciation of the vowels take longer than one mora.
Relevant Articles
僕. "I," "me," "boy."

Also known as "past form."
File Usage
The file yokumo-historie.png has been used in the following articles: