Not Safe For Work.
Warning: this image may feature content not intended for minors or disturbing content.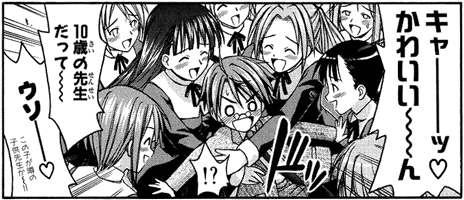 Translation
Context: a bunch of high school oneesans making unwarranted body contact with a shota.

If you don't think this is creepy, imagine this picture with the genders inverted.

kyaa'♥
キャーッ♥
*fangirling noises*
kawaii~~n
かわいい~~ん
Cu~~ute.
uso~~♥
ウソーー♥
[No way]~~.
kono ko ga uwasa no kodomo no sensei ka~~!!
この子が噂の子供先生か~!!
This [boy] is the rumored child teacher~~?!!
Relevant Articles
File Usage
The file oneshota-negima-ch05.png has been used in the following articles:
おねショタ, Pairing: Older Girl × Little Boy.