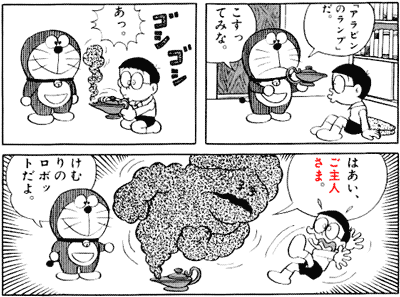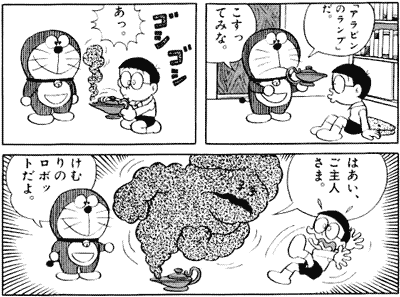 Translation
Context: a cat robot gives an item to a kid.
"Arabin no Ranpu" da.
「アラビンのランプ」だ。
It's the "Alabin's Lamp."
kosutte-mi na.
こすってみな。
Try rubbing [it].

kosutte-miru 擦ってみる - rub [it] and see [what happens].

goshigoshi
ゴシゴシ
*rub rub*

a'
あっ。
Ah.
haai, goshujinsama.
はあい、ご主人さま。
Yees, master.
kemuri no robotto da yo.
けむりのロボットだよ。
[It] is a smoke robot.
Relevant Articles
File Usage
The file goshujinsama-doraemon-ch15.png has been used in the following articles: