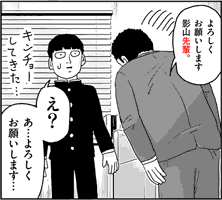 Translation
yoroshiku onegaishimasu, Kageyama-senpai.
よろしくお願いします影山先輩。
[Take care of me,] Kageyama-senpai.

Expression used when meeting someone, or entering care or supervision of someone else, in this case, their senpai.

e?
え?
Eh?
a... yoroshiku onegaishimasu...
あ・・・よろしくお願いします
(the expression can also be used in response to itself.)
kinchoo shitekita...
キンチョーしてきた・・・
[Now I feel] nervous...


kinchou
緊張
Nervous. Anxious. Tense.
In this case, because he's now burdened with the responsibility of having a kouhai.
Relevant Articles
Introductory phrase used when starting working with someone.

先輩, "senior," "upperclassman."

"Eh."

Also known as "past form."
File Usage
The file kageyama-senpai-mob-psycho-ch92.png has been used in the following articles:
サラリーマン. An office worker.