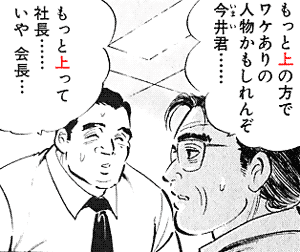 Translation
Context: someone that doesn't seem qualified to be a salaryman joins a company, bewildering other employees.
motto ue no kata de wake ari no jinbutsu kamoshiren zo Imai-kun......
もっと上の方でワケありの人物かもしれんぞ今井君・・・・・・
Imai-kun, it could be that [he's] a person [connected] to someone more above.

wake ga aru
訳がある
To have some circumstances, reasons. In this case, that something must have gone on between someone "move above" and the new employee, so he has a connection with them somehow.
~kun
~君
Honorific used toward subordinates, a teacher's students, and boys.

motto ue tte shachou...... iya, kaichou...
もっと上って社長・・・・・・いや

 

会長・・・
"More above," [that means] the company president...... no, the chairman...
Relevant Articles
File Usage
The file ue-salaryman-kintarou-ch01.png has been used in the following articles: