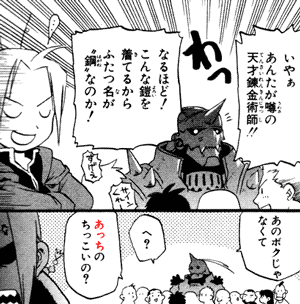 Translation
Context: Alphonse, in the armor, is surrounded by a fanatical mob.
anta ga uwasa no tensai renkinjutsu-shi!!
あんたが噂の天才錬金術師!!
You are the genius alchemist of the rumors!!
naruhodo!
なるほど!
[I see]!
konna yoroi wo kiteru kara futatsu-na ga "hagane" nanoka!
こんな鎧を着てるからふたつ名が″鋼″なのか!
Because [you're] wearing an armor like this, [your] other name is "[fullmetal]"!

The Japanese title of "Fullmetal Alchemist" is "steel alchemist," hagane no renkinjutsushi. So the genius alchemist's "other name" is "fullmetal" in English but "steel" in Japanese.
″″ are double prime quotation marks.

sain kuree
サインくれー
Gimme [your] autograph! (signature.)
sugee
すげえ
Amazing.
he?
へ?
Heh?
acchi no chikkoi no?
あっちのちっこいの?
The shorty one over there?

If Edward Elric were close to the speaker in the mob, it would be kocchi, if he was close to Alphonse, he would be socchi, but he was far away from both, so he was acchi.
Relevant Articles
"You."

こんな, そんな, あんな, どんな, "like this," "like that," "like what."

僕. "I," "me," "boy."
File Usage
The file acchi-no-fullmetal-alchemist-ch03.png has been used in the following articles: