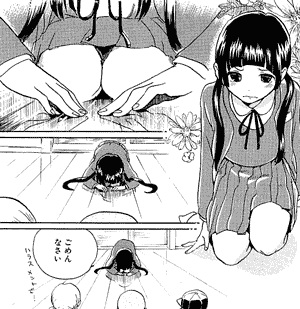 Translation
Context: a girl apologizes for what a colleague did, that was perceived as being harassment.
*kneels*
*places hands on floor*

yuka ni ryou-te wo tsuku
床に両手をつく
To place both hands on floor.

*lowers head*

atama wo sageru
頭を下げる
To lower [one's] head.

gomen nasai
ごめんなさい
[I'm sorry].
harasumento de...
ハラスメントで・・・
For [it] being harassment...
Relevant Articles
A pose of prostration, or grovelling.
File Usage
The file dogeza-kuma-miko-ch02.png has been used in the following articles: