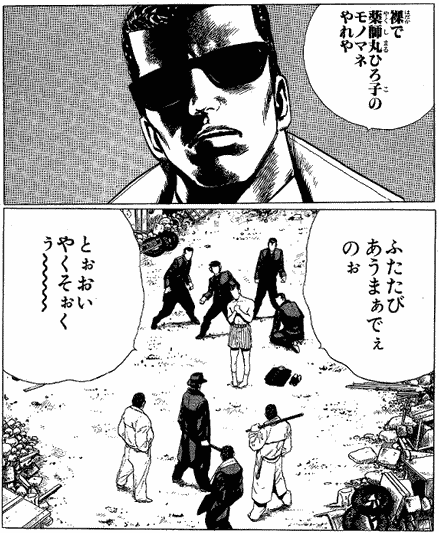 Translation
Context: delinquents gonna delinquent.
hadaka de Yakushimaru Hiroko no monomane yare ya
裸で薬師丸ひろ子のモノマネやれや
Do an imitation of Yakushimaru Hiroko naked. (Hiroko is an actress.)
futatabi au maadee noo tooi yakusookuu~~
ふたたびあうまぁでぇのぉとぉおいやくそぉくぅ~~
[Our] distaaant proomiise to meet aagaaain~~
Note the uniform and shoes on the floor besides the character.
Relevant Articles
File Usage
The file folded-clothes-rokudenashi-blues-vol4.png has been used in the following articles:
A pose of prostration, or grovelling.