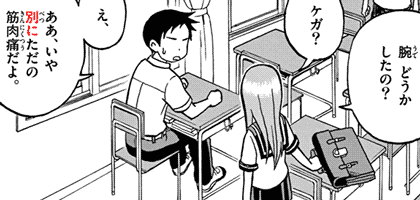 Translation
Context: Takagi 高木 takes a look at Nishikata 西片, and notices his arm is trembling.
ude douka shita no?
腕 どうかしたの?
[Your] arm, [did you do something with it]?

Did something happen to it?

kega?
ケガ?
Injury?
e,
え、
Eh,
aa, iya
ああ、いや
Aah, no
betsu ni tada no
kin'niku-tsuu da yo
別にただの筋肉痛だよ
It's nothing, just muscular pain.

Nishikata's arm is sore from physical exercise.
The betsu ni here means it's no big deal like an injury, nothing serious, just sore from exercise.
Relevant Articles
"Like this," "like that," "like what," "how."

"Eh."
File Usage
The file betsu-ni-tada-karakai-jouzu.png has been used in the following articles: