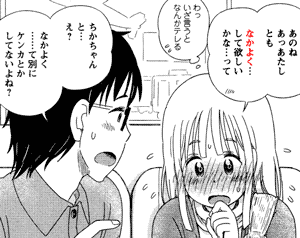 Translation
Context: not that it helps, but this is supposed to be a "husband and wife," fuufu. The husband had said he wanted to have a good relationship with their child, who's a baby (held by the wife out of frame).
ano ne
あのね
[Well, you see...]

Used to call someone's attention before talking.

a' atashi to mo
naka yoku...
shite hoshii
kana... tte
あっあたしとも なかよく・・・して欲しいかな・・・って
[I was thinking] I want you to [have] a good relationship [with me], too.

TL Note: "a good relationship" means "sex."

wa'
わっ
Wah.
iza iu to
nanka tereru
いざ言うとなんかテレる
[After] saying [it I] feel sort of embarrassed.
Chika-chan to... e?
ちかちゃんと・・・え?
With [you,] eh?
naka yoku......te
なかよく・・・・・・て
"A good relationship......"
betsu ni
kenka toka
shitenai yo ne?
別にケンカとかしてないよね?
[It's not like] we've [had] a fight or anything, right?

In case you ever wondered "would this harem anime main character remain so completely dull and ignorant of the girls' advances were him not a high school boy," this is your answer.
Relevant Articles
"I," "me."

"Eh."
File Usage
The file nakayoku-ubu-ubu-fuufu.png has been used in the following articles: