Not Safe For Work.
Warning: this image may feature content not intended for minors or disturbing content.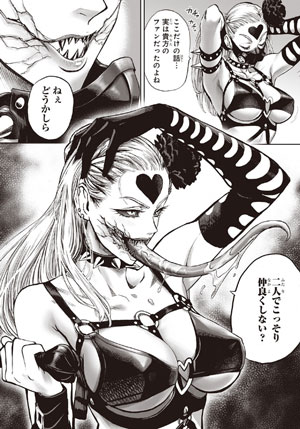 Translation
Context: basically this, but 10 times worse.
koko dake no hanashi... jitsu wa anata no fan datta no yo ne
ここだけの話・・・実は貴方のファンだったのよね
A story of here only... actually [I] was your fan. (literally.)
Let's keep this between us... actually [I] was your fan.
nee doukashira
ねぇどうかしら
[What do you think?]
futari de kossori nakayoku shinai?
二人でこっそり仲良くしない?
How about we get in good terms together?

shinai
しない
To not do. (sometimes used to ask if someone is okay with doing something.)
nakayoku suru
仲良くする
To make peace. To become in good terms.
To have sex. (euphemism, see: naka ga ii 中がいい.)

Note: the name of the character is means "sadist."
Relevant Articles
File Usage
The file do-s-without-mask-monster-one-punch-man-ch103.jpg has been used in the following articles:
グロ, grotesque, bodily horror genre.