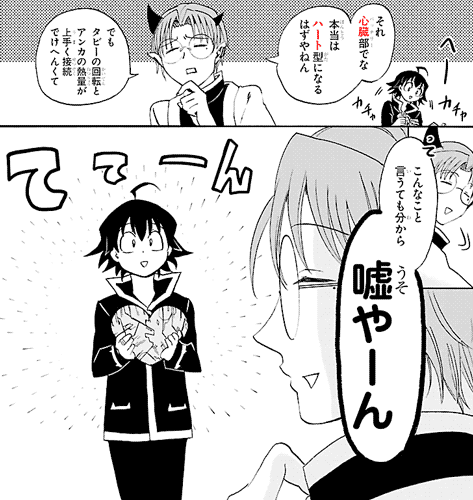 Translation
Context: an important component of a machine is split into pieces on the floor.
sore shinzou-bu (batterii) de na
それ心臓部(バッテリー)でな
That's the heart [of the machine] (battery), [you see].
hontou wa haato-gata ni naru hazu yanen
本当はハート型になるはずやねん
It's actually supposed to be heart-shaped.
demo tabii no kaiten to anka no netsuryou ga umaku setsuzoku dekehenkute
でもタビーの回転とアンカの熱量が上手く接続でけへんくて
But [I] can't seem to connect well the spin of the tabii to the heat of the anka.

The words tabii タビー and anka アンカ sound like "turbine," taabin タービン and "anchor," ankaa アンカー, but are clearly spelled differently. Probably just random technobabble.
dekehen
でけへん
Not able to. (kansaiben for dekinai.)

uso yaan
嘘やーん
[No way!]

While Kiriwo was babbling, Iruma put the pieces together!
Relevant Articles
"To become."

こんな, そんな, あんな, どんな, "like this," "like that," "like what."
File Usage
The file heart-iruma-kun.png has been used in the following articles: