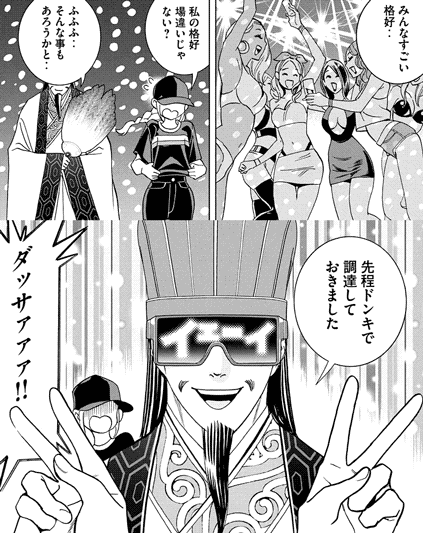 Translation
Context: a master military strategist from ancient China came prepared to a club.
minna sugoi kakkou..
みんなすごい格好・・
Everyone's "appearance" is amazing. (in reference to how they're dressed.)
watashi no kakkou bachigai janai?
私の格好場違いじゃない?
Isn't my "appearance" out of place?
Isn't the way I'm dressed out of place?
fufufu...
ふふふ・・
*laugh*
sonna koto mo arou ka to..
そんな事もあろうかと・・
[I] [thought] something like that might happen [so]..
sakihodo Donki de choutatsu shite-okimashita
先程ドンキで調達しておきました
[I] procured [this] at Donki's (a store) earlier.


choutatsu suru - "to procure," a suru verb.
~te-okimashita - ~te-oku ~ておく in past polite form, used when doing something in advance.

dassaaaa!!
ダッサァァァ!!
Lameeee!!
ieei
イェーイ
Yay.
Relevant Articles
私, "I," "me."

こんな, そんな, あんな, どんな, "like this," "like that," "like what."
File Usage
The file sonna-koto-mo-arou-ka-to-Paripi-Koumei-ch10.png has been used in the following articles: