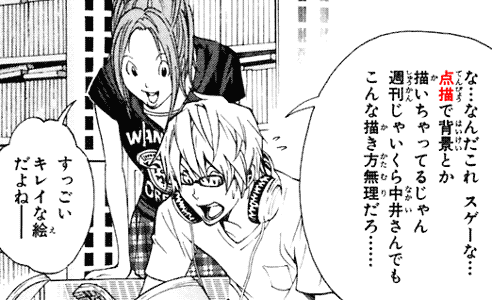 Translation
na... nanda kore
な・・・なんだこれ
Wh... what's this. (emotive right-dislocation)
sugee na...
スゲーな・・・
It's amazing...
tenbyou de haikei toka kaichatteru jan
点描で背景とか描いちゃってるじゃん
The backgrounds [and other stuff] are drawn using stippling.
shunkan ja ikura Nakai-san demo konna kaki-kata muri daro......
週刊じゃいくら中井さんでもこんな書き方無理だろ・・・・・・
In a weekly serialization, even Nakai-san [won't be able to use] this way of drawing......

muri
無理
Impossible.
Unreasonable. Unmanageable. That can't be done or that won't work.
The character is saying that, despite Nakai's abilities, it'd be impossible to draw using stippling in a weekly serialization, since he would have to render dozens of pages every week using this technique and there just isn't enough time.

suggoi kirei na e dayone
すっごいキレイな絵だよね
The drawing is extremely pretty, isn't it.
Relevant Articles
File Usage
The file tenbyou-bakuman-ch31.png has been used in the following articles: