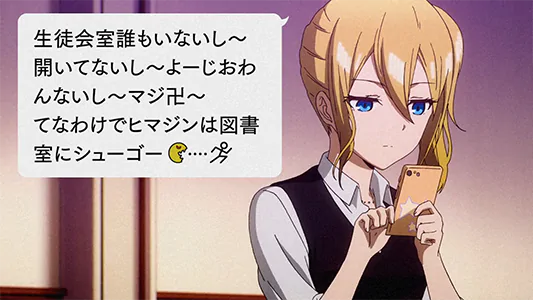 Translation
seitokai-shitsu dare mo inai shi~
生徒会室誰もいないし~
There's nobody in the student council room.
kiitenai shi~
聞いてないし~
[I] didn't hear [about this].
yooji owan'naishi~
よーじおわんないし~
The things [I] have to do don't end~ (i.e. Hayasaka's errands don't end.)

youji owaranai shi
用事終らないし
(same phrase, properly spelled.)

maji-manji~
マジ卍~
[This is the worst]~
te na wake de himajin wa toshoshitsu ni shuugoo
てなわけでヒマジンは図書室にシューゴー
[Given that], people with free time meet up in the library.

himajin
暇人
A person who is hima 暇, being "free," not busy.
shuugou suru
集合する
To assemble. To convene. To meet up.
Relevant Articles
"Who."

"To exist." "To be [somewhere]." "To have [something]." "To be doing [something]."

Existence verb.

"Not." "Is not." Negative forms suffix.

Used to list reasons.

Religious symbol and

JK

slang..

Refers to a reason.
File Usage
The file maji-manji-kaguya-sama-s02-ep01.webp has been used in the following articles: