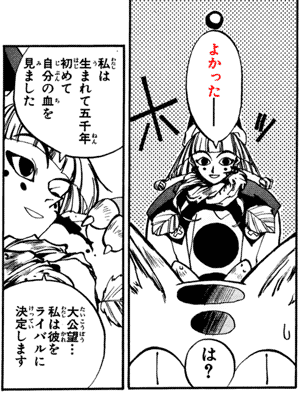 Translation
Context: Shinkouhyou 申公豹 blasts Taikoubou 太公望 with a powerful attack, who retaliates, giving Shinkouyou a little cut in the cheek. Shinkouyou asks his cat to check if Taikoubou survived, and then, after confirming he survived the attack:
yokatta~
よかったー
That's a relief.
ha?
は?
Hah? (the cat doesn't get why he's relieved the guy he was going to kill is still alive.)
watashi wa
umarete go-sen-nen
hajimete
jibun no chi wo
mimashita
私は生まれて五千年初めて自分の血を見ました
In the five thousand years [I] have been born [it] is the first time I've seen [my] own blood.
Taikoubou...
太公望・・・

watashi wa kare wo
raibaru ni
kettei shimasu
私は彼をライバルに決定します
I've decided he's [my] rival.

Relevant Articles
File Usage
The file yokatta-houshin-engi-ch01.png has been used in the following articles: