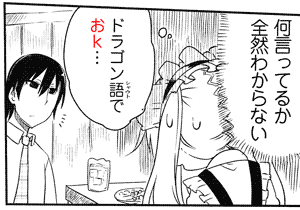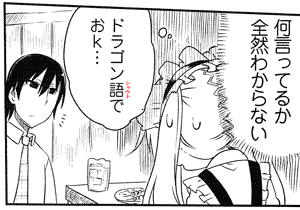 Translation
Context: a dragon maid doesn't understand a guy.
doragon shauto de ookee...
ドラゴン語でおk・・・
With dragon shout [it] is OK. (literally.)
Can you say that again in dragon language?

Here, shauto シャウト is a gikun for go 語, "language."
This is a reference to a meme.
nihongo de ok
日本語でおk
With Japanese language, it's ok.
Which normally would be used if someone is speaking English or Greek or something, and a Japanese native that doesn't understand those languages would rather have them speak in Japanese.
From there, the meme is used when someone is saying stuff that you can't understand, full of jargon, so it sounds like a different language to you.
Relevant Articles
File Usage
The file ok-dragon-maid-ch04.png has been used in the following articles: