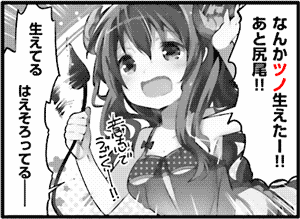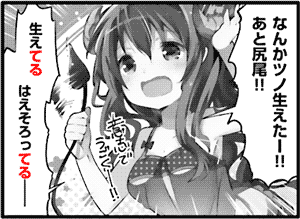 Translation
Context: Yoshida Yuuko 吉田優子, Shamiko シャミ子, grew horns and a tail overnight.
nanka tsuno haeta--!!
なんかツノ生えたー!!
Horns sprouted [out]!!
ato shippo!!
あと尻尾!!
[Also] a tail!!
haeteru
生えてる
[They're] sprouted. (literally.)
hae-sorotteru--
はえそろってるー
[They're both] sprouted.

A compound verb from haeru and sorou 揃う, "to complete [a set]," in the sense that horns and tail make a full set.

ishi de ugoku--!!
意思で動くー!!
[They] move by will--!! (literally)

In the sense Shamiko can move them like she can move a limb, i.e. they're part of her body.
Relevant Articles
File Usage
The file tsuno-machikado-mazoku-vol01-p10.png has been used in the following articles: